His Hands for the Philippines Child Sponsorship Program
We are a child sponsorship program that pairs sponsors, people like yourself, with children in need in the Philippines. His Hands for the Philippines works alongside our Filipino partners, His Hands Christian Community Outreach Association (Luzon) and The C.U.R.E. Foundation (Cebu). His Hands Christian Community Outreach Association (HHCCOA) is a Philippines-based non-profit organization which exists to help Filipino pastors and their congregations. Based in Baguio City, on the northern island of Luzon, HHCCOA is working to help their brothers and sisters in Christ reach out to the poor and needy in their congregations and the surrounding communities with the love of Christ to meet both their spiritual and physical needs. The C.U.R.E. Foundation provides a safe haven for girls who have been rescued out of the evils of online sex trafficking in their Rancho Ni Cristo girls' home. At the Rancho, children will be taught about the love of Christ. In addition to basic food, shelter and medical care, they will also receive counseling, mentoring, and life skills training.
When a child is sponsored for $10 per month through His Hands for the Philippines - Luzon they receive:
All the required school supplies
Enrolls their family in regular distributions of food and other household essentials
When a child is sponsored for $25 per month through His Hands for the Philippines - Cebu they receive:
Food, clothing, and shelter in a wonderful children's home
Medical expenses
Counseling services
A private education on the grounds of the children's home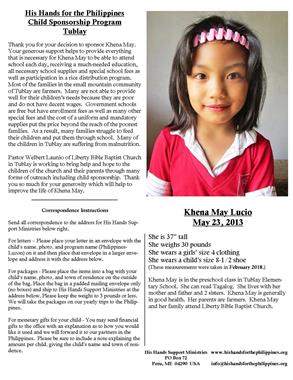 Sponsors receive a photo and personal information about the child they are helping including information about how to correspond with their child, if they choose to do so. Sponsors can choose the age and/or gender of the child they would like to sponsor and may continue to sponsor the same child from year to year, as long as the child remains in the program. 100% of the sponsorship payment goes directly to the Philippines. None of it is used to cover the administrative expenses of this program here in the US.
Please note that FOUR sponsors are necessary to sponsor one child in the His Hands for the Philippines - Cebu program. This sponsorship amount reflects the cost of the intensive care the children in this residential program are receiving.
Sponsoring a child in the Philippines is truly a blessing not only to the child, but to the sponsor as well. The opportunity exists for sponsors to join one of our mission teams traveling to the Philippines and experience the joy of meeting their sponsored child! If you would like information about how you can sponsor a Filipino child, please contact us. If you would like to view some of the children that are available to be sponsored, please visit our Children In Need page.
There are also scholarship opportunities available for university students. You can provide a scholarship to one of these deserving students for just $20.00 per month. This scholarship will help them with the costs of supplies, transportation, food etc. and will help them be able to continue in their university education. To view some of the college students needing scholarship, please visit our College Scholarships page.
Won't you reach out and help? Would you consider sponsoring a Filipino child today?