His Hands for The Dominican Republic
We are a child sponsorship program that pairs sponsors, people like you, with children in need in the Dominican Republic. When a child is sponsored for $20 or $25 per month through His Hands for the Dominican Republic they receive:
School fees
Educational support
Counseling
Food
Spiritual Training
His Hands for the Dominican Republic works alongside our Dominican partners, Pastor Felix Hernandez of Con Cristo Se Puede, Pastor Salvador Mordan of Iglesia De Convertidos A Cristo and his wife, Angela, and Pastor Tanis Derolous of Iglesia Bautista Cristo para las Naciones and his wife, Esther. Their goals are to mentor the children in their ministries spiritually, morally, and educationally so they can become the next generation of productive citizens making a positive impact on their country. This is all done to fulfill our goal as a ministry, which is:
"to support and encourage the work of our brothers and sisters in Christ in the Dominican Republic and to support their ministries, giving special emphasis to helping with children's ministries and in supporting children to enable them to attend school. We strive to demonstrate the love of Christ through works of service to these ministries as well as to other Christian missions and missionaries in the Dominican Republic as we have opportunity - to be God's "hands and feet" and His servants to His children in the Dominican Republic."
100% of your sponsorship payment goes toward meeting the needs of the children - none of it goes toward the administrative expenses of this program here in the United States.
Why the Dominican Republic? Why should we help?
"Defend the weak and the fatherless; uphold the cause of the poor and the oppressed. Rescue the weak and the needy; deliver them from the hand of the wicked." Psalm 82: 3-4

It is estimated that close to 49% of the population of the Dominican Republic lives below the poverty line. Of those who live below the poverty line, 12% live on less than $2.00 per day and 3% live on less than $1.00 per day. Close to 10% of Dominican children under age 5 are chronically malnourished and more than 5,000 Dominican children are living with HIV/AIDS. Poor living conditions, poverty and an extremely unequal distribution of income are problems for many in the Dominican Republic. Child trafficking is also a problem with documented cases of children who have been forced into domestic service, street vending, agricultural work and construction, as well as child sex tourism, especially in the coastal areas. Street children and the large population of undocumented people of Haitian descent are particularly vulnerable to trafficking.
Shortages of teachers, school facilities and funding are common problems in the Dominican Republic. Paying for education represents a significant portion of a Dominican family's budget. Parents moving from rural areas are poorly trained for the job market making it difficult for them to find employment in the cities. Violent weather frequently affects the Dominican Republic putting at risk those who are forced to live in areas that are prone to such weather.
His Hands for The Dominican Republic was formed in 2013 when partnerships were formed between Hands Support Ministries and 2 ministries in the southern part of the Dominican Republic, facilitated by Empowering Action. And in 2015, an additional partnership was begun with Colegio Moriah. To learn more about the His Hands Support Ministries has partnered with in the Dominican Republic, visit our Ministry Profiles page.
For a monthly fee of just $20.00 or $25.00 you can sponsor a needy Dominican child. Your sponsorship will help them participate in programs that provide food, tutoring and counseling, and will help change their life! 100% of your sponsorship donation goes to meet the needs of the children in these ministries. None of it goes toward the administrative expenses of this program in the US.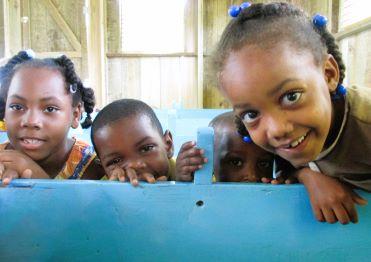 For more information, please visit our Sponsorship page or contact us.