His Hands for India Child Sponsorship Program
We are a sponsorship program that pairs sponsors, people like you, with children, families, and pastors in need in India. His Hands for India works alongside our Indian partner, Pastor SJ Michael, who is the pastor of the Church of Bethlehem. Pastor Michael and his church are reaching out into their community to provide help and hope to the children in the area through their after school program. Children attending this program not only receive much-needed tutoring from Sunday School teachers and older students, but they also receive a meal. When a child, family, or pastor is sponsored for $10, $20, or $50 per month through His Hands for India they receive:
Children:
school fees
uniform
educational materials
participation in an after school tutoring program which includes a snack or a meal
Families:
Pastors:
financial support and encouragement
Sponsors receive a photo and personal information about the child they are helping including information about how to correspond with their child, if they choose to do so. Sponsors can choose the age and/or gender of the child they would like to sponsor and may continue to sponsor the same child from year to year, as long as the child remains in the program. 100% of the sponsorship payment goes directly to India. None of it is used to cover the administrative expenses of this program in the US.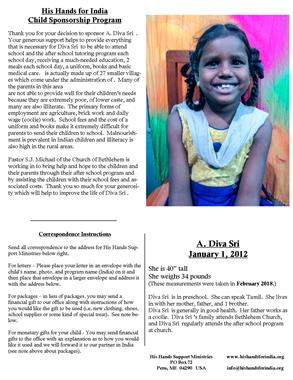 Sponsoring a child in India is truly a blessing not only to the child, but to the sponsor as well. If you would like information about how you can sponsor an Indian child, please contact us. If you would like to view some of the children that are available to be sponsored, please visit our Children In Need page.

Please note - For security reasons, specific locations will not be mentioned on this website. Also the sample information sheet at right has been edited for security reasons.
Won't you reach out and help? Sponsor an Indian child today!