His Hands for Guatemala Child Sponsorship Program
We are a child sponsorship program that pairs sponsors, people like you, with children in need in Guatemala. His Hands for Guatemala works alongside our Guatemalan partner, Pastor Merari Rodriguez in San Lucas, Sacatepéquez. His church, Iglesia Evangelica Galilea in San Lucas, Sacatepéquez is reaching out into various communities to help bring hope to the children of Guatemala through child sponsorship. The have schools as part of their outreach ministries which they use to help educate the children and show them the love of Jesus. His Hands for Guatemala gives them further opportunity to do this. When a child is sponsored for $35 per month through His Hands for Guatemala they receive:
the opportunity to attend school.
a school uniform and educational materials
a monthly food distribution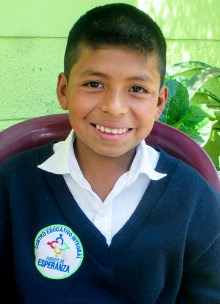 [Please Note: Because of the high costs involved in running a private school that has to follow government rules and regulations, TWO sponsors at $35/month each are needed to cover the educational costs for each child. The first sponsorship will cover the costs of student materials, school supplies, and a monthly food distribution for the student. The second sponsorship will help cover the employees' salaries and the expenses of the building. Sponsors may choose to take on one or both of the necessary sponsorships for any child.]
Sponsors receive a photo and personal information about the child they are helping including information about how to correspond with their child, if they choose to do so. Sponsors can choose the age and/or gender of the child they would like to sponsor and may continue to sponsor the same child from year to year, as long as the child remains in the program. 100% of the sponsorship payment goes directly to Guatemala. None of it is used to cover the administrative expenses of this program here in the US.
Sponsoring a child in Guatemala is truly a blessing not only to the child, but to the sponsor as well. The opportunity exists for sponsors to join one of our mission teams traveling to Guatemala and experience the joy of meeting their sponsored child! Would you consider sponsoring a Guatemalan child today?
If you would like information about how you can sponsor a Guatemalan child, please contact us. If you would like to view some of the children that are available to be sponsored, please visit our Children In Need page.