Ebenezer and Ngcina Feeding Stations
In the community of Siteki, in the eastern region of Lubombo, The Fortress Ministry established the Ebenezer Feeding Station in 2005. Now run by members of the Emmanuel Wesleyan Church in Siteki, who all give of their time sacrificially working as volunteers, this feeding station feeds approximately 25 children 1 meal a day, Monday through Friday.
(left) Siphiwe Dlamini, wife of Pastor Absalom Dlamini, of the Emmanuel Wesleyan Church in Siteki, who is the director of The Ebenezer Feeding Station, along with Thabsile Thwala, director of The Fortress.
South of Siteki, closer to Big Bend, is the Ngcina Feeding Station. They are also feeding preschool children Monday through Friday. Church members volunteer their time overseeing the preschool and the feeding of these children. This area is severely poverty-stricken.
The children who come to the Ebenezer Feeding Station and the Ngcina Feeding Station (located closer to Manzini) are living in vulnerable situations, often living with elderly grandmothers, a guardian, or in child-headed households and a high percentage are living in abusive situations.
Not only do the feeding stations provide a meal, but they also teach preschool children basic literacy skills. A sponsorship program has been set up to help these children and also older children attending associated schools. The children walk long distances to come to the feeding station and, for most of them, the food they receive at the station is the only food they eat each day.
Along with teaching literacy skills, the children are also taught basic hygiene, such as handwashing before eating, and help to wash the dishes after their meal.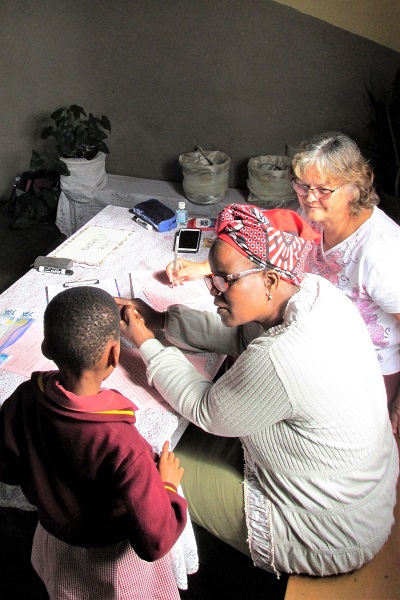 The director of the Ngcina Feeding Station, Rejoice Mamba, helps to interview children.
at right: The Ngcina Feeding Station
If you would like to make a donation to the Ebenezer Feeding Station or the Ngcina Feeding Station, please visit our Donate page. If you would like to sponsor a child, please visit our Children in Need page
T