Sponsorship details of His Hands for South Africa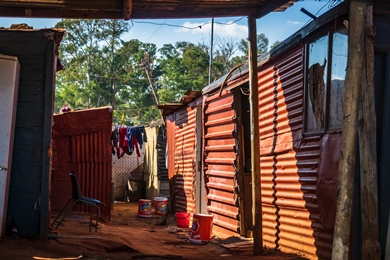 We are a child sponsorship program that pairs sponsors, people like you, with children in need in South Africa. His Hands for South Africa works alongside our South African partners, Theo and Yvonne Burakeye, founders of Jwalang Ministries in Johannesburg. Theo and Yvonne work tirelessly to help not only protect the children of Jwalang, who are residents of a squatters camp in Johannesburg, but they also focus on their physical, mental, and spiritual development providing a safe haven for these children each school day. His Hands for South Africa gives them further opportunity to do this. When a child is sponsored for $25 per month through His Hands for South Africa they receive:
early education
food
basic medical care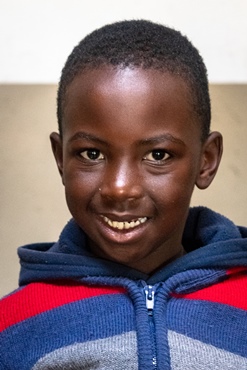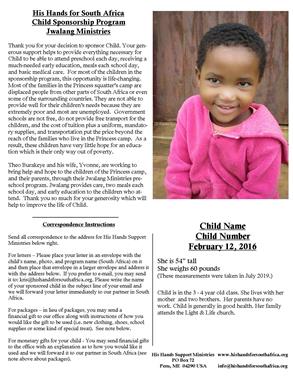 Sponsors receive a photo and personal information about the child they are helping including information about how to correspond with their child, if they choose to do so. Sponsors can choose the age and/or gender of the child they would like to sponsor and may continue to sponsor the same child from year to year, as long as the child remains in the program. 100% of the sponsorship payment goes directly to Jwalang Ministries in South Africa to offset the cost of providing an education, food, and basic medical care to the children in the program. None of it is used to cover the administrative expenses of this program here in the US.
[please note – For security reasons, children who are listed for sponsorship consideration on this website will have their faces obscured and will only be referred to by number. However, sponsors will receive an information sheet, similar to the edited one at right, which will have a photo showing the child's face and will include their name.]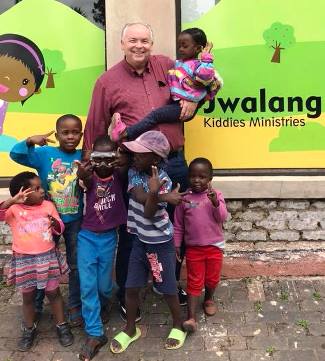 Sponsoring a child in South Africa is truly a blessing not only to the child, but to the sponsor as well. If you would like information about how you can sponsor a South African child, please contact us. If you would like to view some of the children that are available to be sponsored, please visit our Children In Need page.
Won't you reach out and help? - Sponsor a South African child today! Please contact us.