About Us
"For we are His workmanship, created in Christ Jesus for good works, which God prepared beforehand, that we should walk in them." Ephesians 2:10
We understand the necessity of having a page "about us", but we write this with some degree of reluctance. We do not seek any praise or recognition for what we are doing and we are uncomfortable when we receive it. This ministry is not "about us". We are nothing special - only His jars of clay who are willing, available, and are trying to be obedient to God and walk in the good works He has prepared for us beforehand.
"Therefore, since through God's mercy we have this ministry, we do not lose heart....But we have this treasure in jars of clay to show that this all-surpassing power is from God and not from us." 2 Corinthians 4:1,7
We long for the day when people will see our good works and praise God, not us.
"In the same way, let your light shine before men, that they may see your good deeds and praise your Father in heaven." Matt. 5:16
However, we know many of you do not know who we are and would like to know something about the people behind these good works. That being said, here's a little info "about us".
His Hands Support Ministries is incorporated under the laws of the State of Maine as a 501c3, non-profit, charitable organization. His Hands for Nicaragua is an all-volunteer ministry program being run by His Hands Support Ministries. These are some of our core principals:We strive to promote unity within the body of Christ - HHSM recognizes the need for unity in the body of believers who all share the common bond of faith in Jesus Christ and have experienced His saving grace. Our fellowship is made up of believers from many different denominations including Baptist, Evangelical Free, Assembly of God, etc. and we have joined together with our brothers and sisters in Nicaragua to try to make a difference in the lives of the people there who are living in poverty. Our purpose is not to start an American work in Nicaragua, but to come alongside our Nicaraguan brothers and sisters to support and encourage them in the work they are already doing.
"So Joshua fought the Amalekites as Moses had ordered, and Moses, Aaron and Hur went to the top of the hill. As long as Moses held up his hands, the Israelites were winning, but whenever he lowered his hands, the Amalekites were winning. When Moses' hands grew tired, they took a stone and put it under him and he sat on it. Aaron and Hur held his hands up—one on one side, one on the other—so that his hands remained steady till sunset. So Joshua overcame the Amalekite army with the sword." Exodus 17:10-13
We are a faith-based ministry – We do not and will not actively solicit support for the operational needs of the ministry, only for the children or other special projects. 100% of the sponsorship fee we collect will ALWAYS go to the children, not to the running of the ministry itself. When the ministry has a need for funding, we go to God with that need, and not to man, for we know that God is the one who provides for all of our needs.
Our Board of Directors -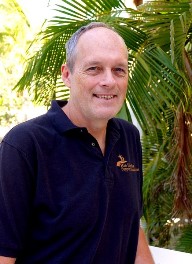 Philip Charles, president, and his wife, Jamie, met while attending Barrington College, where Jamie received a B.S. in Youth Ministries in 1980, the same year in which they were married. Philip is a PK (pastor's kid) as well as an MK (missionary's kid), having spent 3 years as a child in the city of Lima, Peru. Philip is also a self-employed carpenter but currently spends his time, along with Jamie, giving full-time care to their elderly mothers in Florida. God has blessed Philip and Jamie with 6 children and as well as 8 grandchildren. They have experienced the tremendous blessing of being able to take all of their children and one of their grandchildren to visit several different country programs with them at different times. Philip and Jamie currently attend Cornerstone Family Church in Saint Cloud, Florida.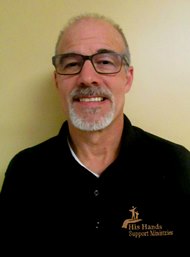 Henry Cooper, vice president, has served as the Associate Pastor at Fayette Baptist Church (FBC) in Fayette, Maine since 2006. He has earned degrees in Missionary Aviation, Pastoral Ministries B.A., and Biblical Counseling M.A. Along with pastoral duties; he oversees the ministry leaders, small groups, and the local outreach and cross-cultural mission efforts of the church. FBC made their first mission trip to Haiti with His Hands in 2006. Since then Henry has led several trips back to Haiti and takes teams each year to Mexico. He and his wife, Vicki, served as missionaries with South America Mission in Bolivia for 15 years. They have two adult children: Calvin (and his wife Katie) and Benjamin (and his wife Courtney) and two full-of-life grandsons, Israel and Solomon. Henry and Vicki enjoy spending time with family, hiking, and flying.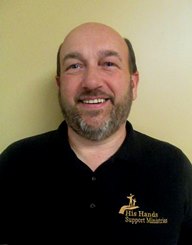 Scott Verrill, secretary, and his wife Marilee, are currently Pastors at Victory Christian Church (VCC) in Livermore, Maine where they have served in various capacities through the majority of the church's twenty year history. Scott holds degrees in Business Administration (ABA), Visual Communication (BFA), and Education (M.Ed.). Scott & Marilee are leading this young church into discipleship and loving service in the local community and participation in world-wide ministry through His Hands. They have four children; Winfield, Dexter (and his wife Rachael), Autumn Waite (and her husband Brenden), and Victor, who will be heading off to college in 2020. Scott & Marilee enjoy time with family, serving at the church, and short trips to locations in Maine and New Hampshire.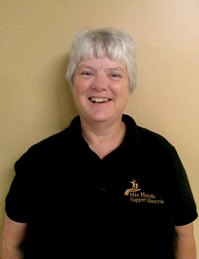 Wanda Meisner, treasurer, is Dana Meisner's wife, mother of 4 children, and 4 grandchildren. Wanda teaches her grandchildren at home. She is nutty about math and uses her math skills to assist with the ministry's bookkeeping. Wanda grew up reading books about missionaries and enjoyed listening to missionaries speak about their individual ministries in foreign countries. Her dear friend and mentor saw this interest. He constantly said, "Wanda, I believe that someday you will be a missionary". Wanda says that it is a great privilege to be able to serve God and His children through His Hands Support Ministries. She is so thankful for the blessing of traveling around the world and has traveled to Haiti, India, Myanmar, Kenya, Eswatini, and Honduras. All 4 of her children have also traveled with HHSM. Dana & Wanda attend Faith Bible Chapel in Buckfield, Maine.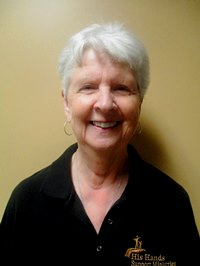 Lorraine Mitchell, director, has been married to her husband, Brud, since 1958. They have 4 grown children, Nadine, Doreen, Stephanie & Stephen, 10 grandchildren and 5 great-grandchildren. Lorraine has served God by being treasurer for her church as well as two other Christian organizations. She has made several trips to Haiti and Guatemala, her first trip being in 2004, and has formed strong relationships with many of her sponsored children as well as with many of her Christian brothers and sisters in those countries. Lorraine currently works giving in-home care to the elderly and attends the Strong Church of the Nazarene in Strong, Maine.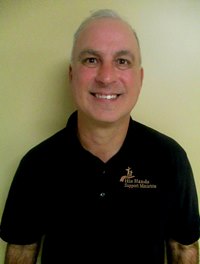 (Hugh) Tim Corbett, director, served in the military service for 32 years, retiring in March of 2019. He retired as the Assistant Adjutant General-Army with the rank of Brigadier General. He also practiced law in Waterville, Maine from 1991-2002. Tim is the recipient of many decorations, awards and citations for his military service including the Bronze Star Medal, Legion of Honor, NATO Medal, Meritorious Unit Citation, Global War on Terror Service Medal and Afghanistan Campaign Medal He married his high school sweetheart, Laura, in 1983 and they have 3 grown children, Tim Jr, Jenny, and Ciara, as well as several grandchildren. Tim and Laura attend Faith Evangelical Free Church in Waterville, Maine.
Nicaragua Child Sponsorship Coordinator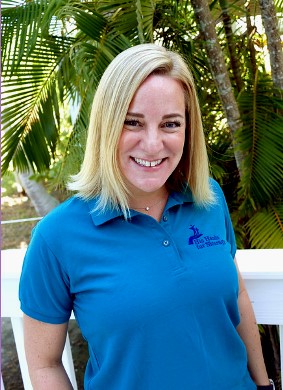 Jessi Culyer, coordinator of the Nicaragua program, is a wife and mom of three children and currently fostering two girls. Jessi co-leads Women's Ministries at her local church, West End Assembly of God in Richmond, VA. She is passionate about learning the Word of God through inductive study and leading a Bible study for women to come alongside her on the journey. She loves eating her way around the world and going on new adventures! Her first ever mission trip was to Nicaragua in 2018 where she learned of His Hands Support Ministries. Her prayer had been that God would break her heart for what breaks His, and that He did. A piece of Jessi's heart is with these sweet families in Nicaragua and is honored that God would use His Hands as a way to bring me alongside to serve them.
His Hands for Nicaragua is working in cooperation with the following ministries, who are also partnered with A Heart to Love in Nicaragua:
Extending mercy to children in Nicaragua to be free from poverty and hopelessness through nutritional support, education and family micro-businesses.
Flutemaker Ministries has been partnering with Pastor Carlos Baez who rescued the kids from the dump in 2006. Together Erik and Linda and A Heart To Love Foundation in Nicaragua built a children's home. We are a mercy centered non-profit that reaches out to impoverished children with severe disabilities in Northern Nicaragua, support 49 feeding centers that feed 5,000 children, and help with water supply systems deep in the Miskito Coast. And we feel extremely loved on by His Hands Support Ministries with the idea that others can come alongside of us to help in this amazing work.To learn more, visit the Flutemaker Ministries website.
Kids In Crisis mission is to feed, care for, and educate children in the US and around the world. We have been honored to be able to sow into the beautiful people of Nicaragua since 2009, by partnering with other nonprofits in varying capacities. Our program Lily's Hope was created to provide financial support for children in impoverished countries that have medical and developmental disabilities. Our president, and her husband have a child adopted from China, Lily, that has significant medical and development needs. They are blessed to be surrounded by medical, therapeutic and educational supports for their daughter. After visiting Nicaragua several times their hearts were broken for the families of children with medical needs. The mothers were doing all they could to care for and love their children, but lacked the supports that they were so fortunate to have by living in a first world county. Our goal is to come along side these families and their children and help bridge the gap, so that they can have access to medical, nutritional, and therapeutic care. To provide the child and family with dignity and support, and let them know they are valued. To learn more, visit the Kids In Crisis website.