His Hands for Myanmar Child Sponsorship Program
We are a child sponsorship program that pairs sponsors, people like yourself, with children in need in Myanmar. His Hands for Myanmar works alongside our Burmese partners who are the directors of a children's home. Their goal is to mentor all the children in the home spiritually, morally, and educationally so they can become the next generation of productive citizens making a positive impact on their country. When a child is sponsored for $25 per month through His Hands for Myanmar they receive:
Food, clothing, and shelter in a wonderful children's home
Medical expenses
School uniform
Educational materials
School fees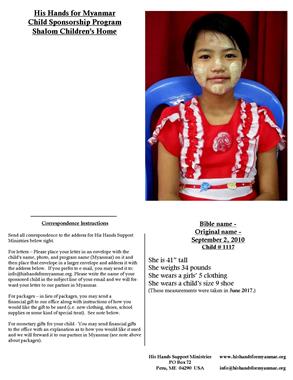 Each child needs two sponsors to help cover the cost of their food, clothing, shelter, and medical expenses (Home Sponsorship) as well as the cost of their school uniform, educational materials, and school fees (School Sponsorship). The fee for each type of sponsorship is $25 per month. Sponsors receive a photo and personal information about the child they are helping including information about how to correspond with their child, if they choose to do so. Sponsors can choose the age and/or gender of the child they would like to sponsor and may continue to sponsor the same child from year to year, as long as the child remains in the program. 100% of the sponsorship payment goes directly to Myanmar. None of it is used to cover the administrative expenses of this program here in the US.
Please note - the sample information sheet at right has been censored for publication on this website.
Sponsoring a child in Myanmar is truly a blessing not only to the child, but to the sponsor as well. If you would like information about how you can sponsor a Burmese child, please contact us. If you would like to view some of the children that are available to be sponsored, please visit our Children In Need page.
Won't you reach out and help? - Sponsor a child in Myanmar today! Please contact us.